JONES COACHES HELP DEVA VITRIX INVADE ROME FOR FOUNDERS DAY

IN APRIL 2008 JONES COACHES PROVIDED TRANSPORT FOR ROMAN TOURS LTD & DEVA VITRIX TO TRAVEL TO ROME VIA CHESTER'S TWIN TOWN OF LORRACH IN GERMANY TO TAKE PART IN ROME'S FOUNDERS DAY MARCH.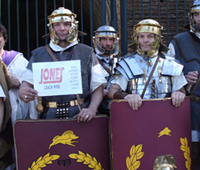 A TRUE ONE OFF EVENT THAT WE AT JONES COACHES WERE PROUD TO BE A PART OF AND ARE LOOKING FORWARD TO A LONG AND HAPPY PARTNERSHIP WITH ROMAN TOURS OF CHESTER.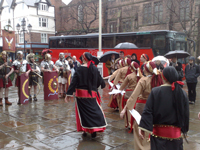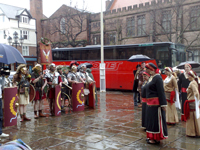 SO IF YOU NEED HELP PLANNING AN EPIC TRIP LIKE THIS OR JUST A LOCAL TRIP PLEASE GET IN TOUCH TO SEE WHAT WE CAN OFFER YOU. THANK-YOU.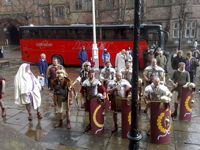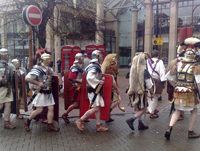 WORKING TOGETHER TO PROMOTE CHESHIRE'S ROMAN HISTORY. THROUGHOUT EUROPE.
5 COUNTRIES IN 7 DAYS
3000 MILES
25 ROMAN SOLDIERS &
SUPPORT CREW
2 TOP DRIVERS
1 JONES COACH